Adding a Custom Domain
This walkthrough shows how use a custom domain you own for your Swish blog.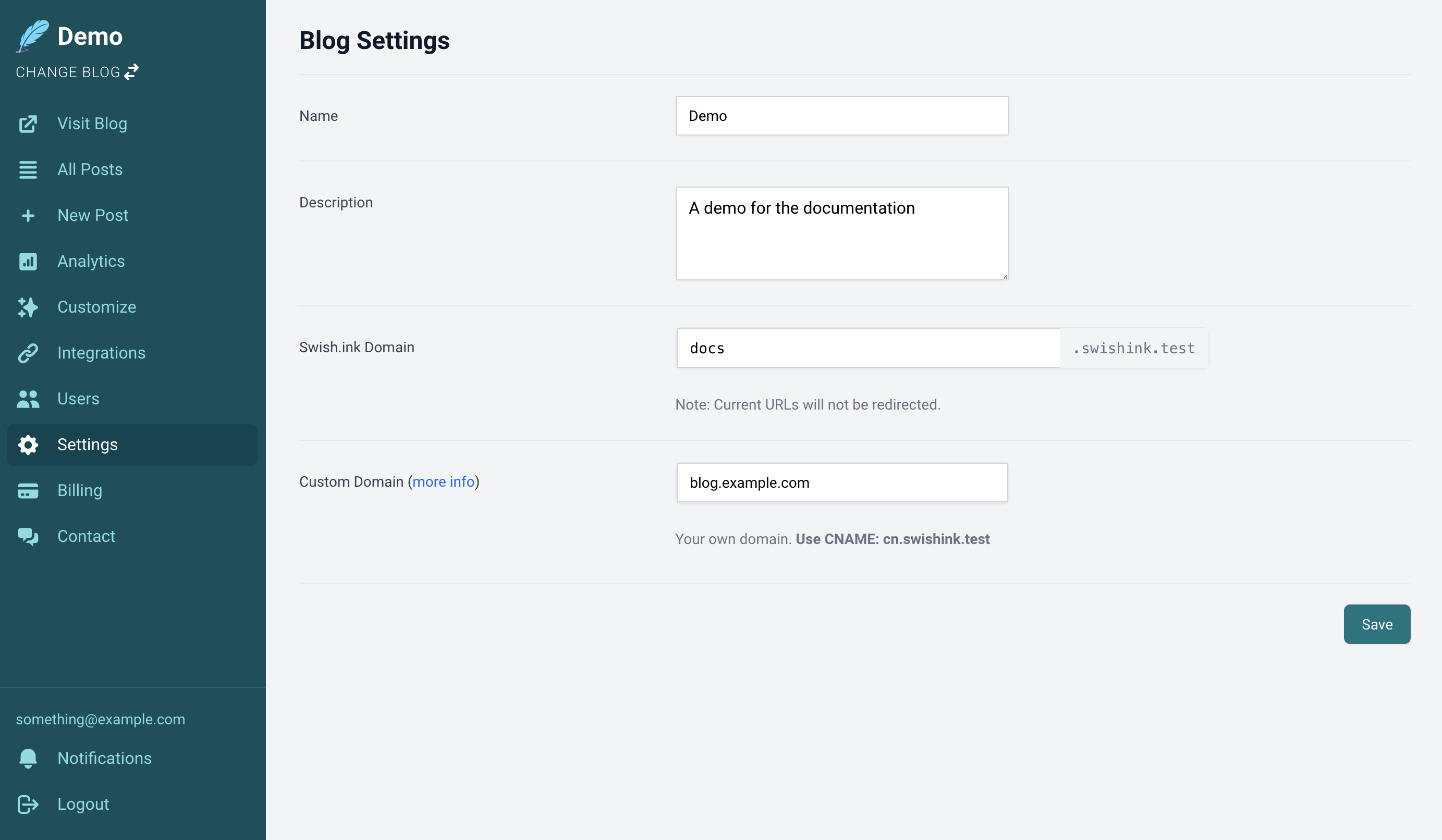 What is a Domain?
A domain is a unique branded name users can type in the browser address bar to locate your website/blog e.g. swishink.com. When a user enters your domain name in the address bar of a browser it sends a request to a phone book of the internet called a Domain Name System(DNS).
A lookup is then performed to get the corresponding name servers of your domain name which is managed by your hosting company. If the request is confirmed the server now fetches the content of the website and it is served to the user in the browser.
Swish.Ink supports two types of domains a sub-domain and an apex/root domain.
Getting a Domain
A non-profit organization called Internet Corporation for Assigned Names and Numbers (ICANN) is responsible for managing the domain name system. They give permission to companies called Domain Name Registrars to sell the domain names.
Some of the popular companies include;
Adding a custom domain to your Swish.ink Blog
Swish supports two types of custom domains: an apex domain and a subdomain. An apex domain also called a root domain is a custom domain that has no subdomain part e.g example.com. A subdomain is a domain that is part of another domain e.g. blog.example.com.
To connect your blog to your custom domain follow the steps below:
Go to your Dashboard and Navigate to Settings
On the Settings Page, add the custom domain you've purchased to the custom domain Text Field
Save
Go to your Domain Provider, locate the DNS records and create a CNAME record that points your domain to cn.swish.ink
Note: It takes about 24 hours for changes to take effect and some providers do not allow adding a CNAME record for apex domains
Here are some links on adding a CNAME record from popular domain providers
Using a subdirectory
If you would prefer to have your Swish blog on a subdirectory such as example.com/blog instead of blog.example.com, you can follow the steps here.
See Also
Demo
Check out the Demo to see how everything works without having to sign up.